Opportunities for you to be part of the online Irish language community
Do you find it challenging to find good Irish language content online? Gaelchultúr creates content for Facebook, Twitter, Instagram and YouTube but there are lots of other groups doing that too! We've included some recommendations below to help you be part of the online Irish language community and improve your language skills at the same time.
1. The Irish Language on Twitter
There's a really strong Irish language community on Twitter. Every aspect of life is covered on Twitter – the latest news, for example, education, sport and entertainment – and lots of interesting people are active on the platform. And of course, it would be remiss of us not to mention Gaelchultúr's own @DirkVanBryn, when talking about interesting people. Many debates take place on Twitter and it's a great place to ask the experts your questions about the Irish language. Make sure to follow the following accounts if you want to see interesting content in Irish:
@gaelchulturteoranta

@DirkVanBryn

@Motherfocloir

@theirishfor

@tuairiscnuacht

@MiseCiara

@beopodchraoladh

@popupgaeltacht

@MiseAine

@gaeilgheansai

@bladhaire1
2. The Irish language on Instagram
Instagram is a great platform that's full of brilliant people sharing their opinions and ideas. Creative images are the main feature of the platform but, of course, you can also listen to people using Irish while they talk about their stories. The likes of @muinteoirmeg records her stories in Irish but she always includes a glossary. So, the learning doesn't stop, even when you're spending time on Instagram. Here are some other accounts worth checking out:
@gaelchulturteoranta

@muinteoirmeg

@muinteoirmurphy

@beopodchraoladh

@bloc_tg4

@popupgaeltacht

@molsceal

@gripswithgaeilge

@caoimhechats
3. Podcasts
A great way to improve your language skills is to listen to natural everyday Irish. Podcasts are a great way of accessing this type of language and here in Gaelchultúr our favourite one is Beo ar Éigean: we love how Siún, Sinéad and Áine always have great craic whilst discussing life's ups and downs. And here are three other podcasts we would recommend to you: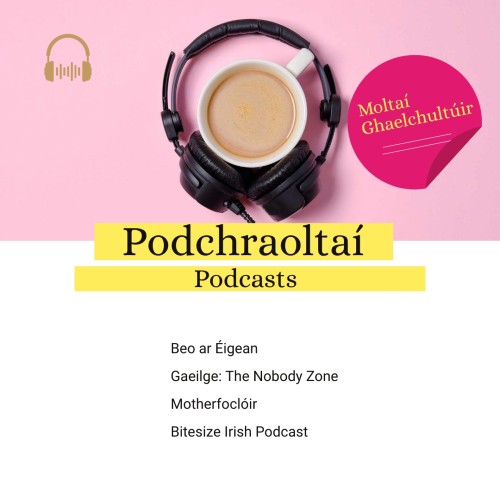 Gaeilge: The Nobody Zone (RTÉ)

Motherfoclóir

Bitesize Irish Podcast
4. ranganna.com
A great way to be a part of the international Irish-language community is to take a course on Gaelchultúr's e-learning website, ranganna.com. Every year thousands register for courses on the site and start their Irish language journey with us.
Ranganna.com is user-friendly and comprehensive e-learning site that gives you the opportunity to learn authentic, everyday Irish independently and at your own pace. In short, it's the best place to learn Irish online.
You can try a sample unit in the case of each course to give you a taster of what's involved. To find out more, please click here.