Link of the Month: Le Ceangal

Even though the restrictions of the last few months are gradually easing, it seems that we will not return to life as it was for some time yet. Perhaps it would be difficult for many people to say anything positive about this period but aren't we fortunate in a way to be living in the age of technology - which means that we have many different ways to connect with our loved ones and with our friends? Most Irish people are now experts in Zoom and the likes and who knows how many online quizzes have been run on that platform since March!
And it's on Zoom that the events of the new online series Le Ceangal, released at the end of June, unfold. This is a love story that takes place during the lockdown and it shows the pros and cons of developing a new relationship online. We meet Aoife and Declan, brilliantly portrayed by Eva-Jane Gaffney and Eoin Ó Dubhghaill, who started a new relationship at the beginning of the year and who want to keep things fresh while they are away from each other. We can all relate to different aspects of the story – whether that's the two struggling with technology or all the twists and turns in their love story.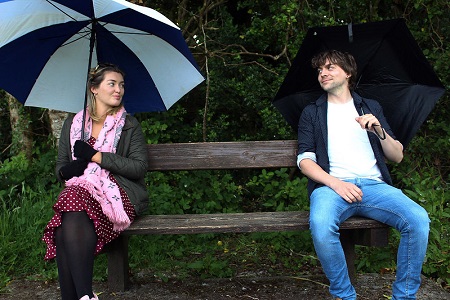 The entire series was recorded in the space of just three days at the height of the virus in Ireland and it was put together by just six people in total. Speaking to Gaelchultúr's Newsletter, Ó Dubhghaill said that he had to prepare his own make-up and clothes for the show, as the crew was spread all over Ireland.
"It's one of the best crews I've ever worked with. Everyone had three or four jobs and I learned a lot of new skills because of that." It's a unique series, not only because of the wonderful acting on show, but because of the challenges the team had to overcome to complete it. Eoin says that the show is "funny, but sad and realistic at the same time". While we get just a taste of each character's personality in the short episodes, it's still easy to empathise with them.
All the episodes can be found on the BlocTG4 YouTube channel (click here) or on the TG4 player (click here). We highly recommend that you go watch them!